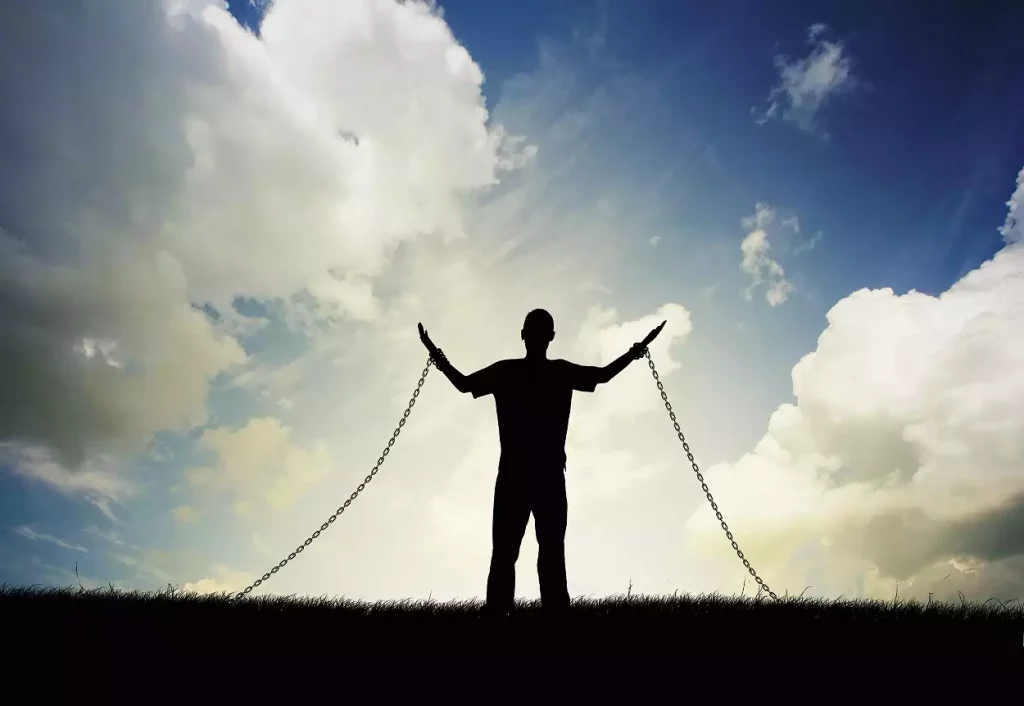 If you need to break generational curses in your life, I have a proven self-deliverance prayer for you that actually works. I prayed this prayer or variations of it for myself and others many times and saw great results.
Jesus' healing and deliverance power is still working today and brings immense breakthroughs every time we align with it.
A self-deliverance prayer to break generational curses is this: "Dear Jesus, I ask for forgiveness of all my own and my family line's sins and excuse-making. I renounce every generational curse on my life. I remove them now and command them and every curse holder to leave me now in the name of Jesus. Amen."
This is just a short version of a more in-depth prayer. I highly recommend you read and pray through the whole prayer below.
It is way more comprehensive and unlocks a deeper deliverance for you.
Remember though, it's not about the words we pray but about the heart behind it and the trust we put into Jesus.
This prayer is supposed to be a helpful guide, not a magical chant!
Keep your eyes on the prize.
Breaking generational curses through Self-Deliverance Prayer
Dear Jesus,
I ask you for forgiveness for all of my sins. (You may want to repent of specific sins as well.)
I receive you as my Lord and Savior over my life. I surrender everything I am and have to you. Please be my helper and friend.
I cover myself and my family with your blood right now. I stand in the gap for my father's and mother's family line (and for my spouse and child(ren).) I ask you for forgiveness for all of our sins, especially for (fill in the blank). (1 John 1:9)
In Jesus' name, I forgive and release every person that wronged or hurt me. I forgive them for making me feel (fill in the blank) by doing (fill in the blank), or not doing (fill in the blank), or saying (fill in the blank), or not saying (fill in the blank). In the name of Jesus, I completely forgive them. (Matthew 6:14-15)
In Jesus' name, I put on the belt of truth, the helmet of salvation, the breastplate of righteousness, and the shoes of the gospel. I take up the shield of faith and the sword of the Spirit, which is the Word of God. (Ephesians 6:10-20)
(If you have children, they should also pray the following, if possible. If not, renounce the same thing your child needs deliverance from. Sometimes these things run in the family. These are generational curses.)
In the name of Jesus, I renounce (fill in the blank for any sickness, disease, curse, or sin you want to renounce now. Be specific.) in my life and also in my bloodline, both ways all the way back to Adam and Eve.
Holy Father, in the name of Jesus, I invite your precious Holy Spirit into this place right now. In the name of Jesus, I ask you, Father, to send sufficient angels that would assist in this spiritual warfare with healing, deliverance, protection, and praise. Please glorify your name here right now. Thank you for being so faithful to me and my family.
In the name of Jesus, I declare that everything that leaves me and/or my child here today has to go right back into the pit of hell and will never come back. I bind all the demons I renounced as one and they have to leave me and my family as one.
In Jesus' name, I also bind and break any plan of the enemy for revenge. In Jesus' name, I bind the strong man right now. I take away all weapons, armor, devices, and crowns of all demons I renounced in my life. I reverse their curse (X amount, like 10 times, 50 times, etc.) of times back on their own head. May they receive back what they came out to do to me. (Psalm 149:5-9, Matthew 16:19, Mark 3:27)
I declare in Jesus' name that no weapon formed against me shall prosper but be turned back to its sender right now. (Isaiah 54:17) They shall receive their own fear, their own suffering, their own torment, their own (fill in the blank with what you renounced). In the name of Jesus, I release God's written and appointed judgment for every single one of these demons right now. (Psalm 149:5-9, Revelation 15)
In the name of Jesus, I release a holy confusion into the enemy's camp, so they would point their own weapons against each other or themselves. (Exodus 23:27, 1 Samuel 14:19-20) In the name of Jesus, I command that they have to hear their own lies like a broken record over and over again, like the torment they tried to bring on me and my child until they leave us.
In the name of Jesus, I curse (fill in the blank with what you renounced) at the root like Jesus cursed the tree. (Matthew 21:19) It shall die, dry up, and never bring bad fruit in our lives again.
In the name of Jesus, I come against (fill in the blank with what you renounced) with the blood of Christ and command them to leave me here and my family altogether, right now!
(Take a deep breath now, maybe cough three times, and let it all go. These troubles you renounced are Spirit(s), so they will have to leave through breath/spirit. Trust me, it works. That's how God healed me from cancer and so many other things too. Let God move on you now. Let the Holy Spirit touch you and set you free. Should a demon manifest, don't be intimidated. Just tell it to go in the name of Jesus until it leaves. Once you think God's healing and deliverance is completed for the moment, you might want to release the blessing.)
In the name of Jesus, I release God's blessing (opposite of what you renounced). I release healing, freedom, deliverance, the power of God, joy, and God's anointing, (or anything else you want to release). Holy Spirit please fill every empty space in me now. Fill me with your light and your love. I dedicate every now delivered space in my life back to Jesus. Jesus, I put you first in every area of my life.
Heavenly Father, I ask you in Jesus' name to stir up new gifts in our lives through your Holy Spirit to bring good fruits and build your kingdom (1 Corinthians 12,14).
Heavenly Father, in the name of Jesus, I ask you for the Spirit of strength and the power of your might to come into my life and the life of my family. (Ephesians 6:10) I also ask you, in the name of Jesus, to release the authority over all the power of the enemy, to trample on spiritual serpents and scorpions, and that nothing would harm us. (Luke 10:19)
I thank you and praise you for what you are doing in our lives.
In the name of Jesus. Amen.
What are generational curses?
Curses are consequences or judgments for sins we commit. (Genesis 3:14-19)
Generational curses are curses or consequences for sins our ancestors committed and are not broken. Therefore, they are handed down from one generation to another. (Exodus 20:5)
A common misconception in Christianity says Jesus took away all our curses on the cross based on Galatians 3:13.
"Christ has redeemed us from the curse of the law,
having become a curse for us
(for it is written, "Cursed is everyone who hangs on a tree"),"
Galatians 3:13 NKJV
First, it says He "redeemed us from the curse of the law." He didn't erase the consequence of sin in general. He took "The chastisement," meaning the judgment upon Himself just as He took our sins. (Isaiah 53:5)
Secondly, even though He died for our sins, we still repent and ask Him for forgiveness. One reason we do that is so we would be saved.
Just as He became a sin for us, He also became a curse for us. (2 Corinthians 5:21)
Just as we still have to ask Him for the forgiveness of our sins, we also still need to renounce the curses and consequences of our sins.
A curse is a legal right for demons to kill, steal, and destroy our life (John 10:10).
So, think about this: Even though you might be saved, forgiven, and under the blood – in whose interest is it that you remain bound in your curses and believe the false doctrine that you don't have to renounce anything?
Also, if you just renounce your curses it won't automatically deliver you. You still have to cast out the curse holder (demon) executing the consequence in your life. But more on that further below.
How to break generational curses
To break generational curses, we ask for forgiveness of our own and our family line's sins and excuse-making. We practically stand in the gap for our ancestors and ask Jesus to cover the whole family line with His blood and forgiveness, all the way back to Adam and Eve – just to make sure. (Ezekiel 22:30, 1 John 1:9)
To learn more about "standing in the gap" for others or your family, you should read this article: What It Means To Stand In The Gap
Now that we repented, we renounce it just the same way. We renounce all generational curses of a specific or a general sin all the way back to Adam and Eve in the name of Jesus.
We tell the demon, who enforces the "generational judgment," to leave us and our family in Jesus' name. It has no legal right anymore to be in our lives and has to go, now.
Where two people come into an agreement on something, God will give it to them.
"Again I say to you that if two of you agree on earth concerning anything that they ask, it will be done for them by My Father in heaven."
Matthew 18:19 NKJV
You can apply this powerful principle and pray with a prayer partner or seek healing and deliverance prayer in church.
Remember, healing and deliverance are, in most cases, a process. Don't be impatient or discouraged. Keep on fighting until the victory and freedom of Jesus manifests in your life.
Lastly, you can pray for self-deliverance.
What is self-deliverance
Self-deliverance is a deliverance prayer of breaking curses and casting demons out of oneself. After repentance, forgiving others and renouncing the respective demon, its sin, and its curse, the demon is commanded to leave in Jesus' name. Thus, hands can be but don't have to be laid on yourself.
Self-deliverance is a form of spiritual warfare prayer for yourself. It requires you to stand firm in God's forgiveness and authority. (1 John 1:9, Luke 10:19, John 20:21)
Confront your sin and its resulting curse in your life. You might find a demon manifesting in you. This is nothing to be afraid of!
It has been in there all along, but now that you repented and renounced your sins and curses, it knows it's an illegal squatter.
It obviously wants to stay, but you have the authority in Jesus Christ to reverse the judgment on its own head and cast it out in the name of Jesus. (Psalm 149:5-9)
Mark 16:15-20 talks about how we can "lay hands on the sick." Whether you actually are sick or not, there is a spiritual principle you can apply.
Just lay your hands on yourself. 
I learned this from an experienced healing and deliverance minister one time who thought us the following are like "pressure points" the demons don't like. It might sound weird to you, but it works.
Again, it's not about a magical technique that makes God do something for you. It is a spiritual weapon for your personal weapon chest,
Besides, it's not a sin, so you might as well try it.
I usually do one of these things: 
I'd put both my hands on my forehead, covering my eyes.
I'd have one hand on my forehead and the other on my neck.
I'd put one hand on my neck, with the other, I'd point my finger(s) on my solar plexus.
While doing this take deep breaths, maybe even do 1-3 coughs and see what happens.
Why breaths or cough?
Demons are spirits. One translation for the biblical word "spirit" is breath or wind (Hebrew: ruach; Greek: pneuma). So, these spirits will leave you through your breath: breathing deeply or your cough.
I go into way more detail in my guide on self-deliverance. Check it out to learn more.
Related Posts:
You look for an answer to the question if there is such a thing as too much prayer. You might be unsure because there're people saying you have to pray

---

You feel like God is moving in your life to pray for people. You want to pray just like Jesus did in the Bible and see real miracles, but you

---

When we ask, "did Jesus worship God?", we actually mean, "did Jesus really worship God while being God himself? Did He, therefore, worship himself?" I want to answer these questions

---