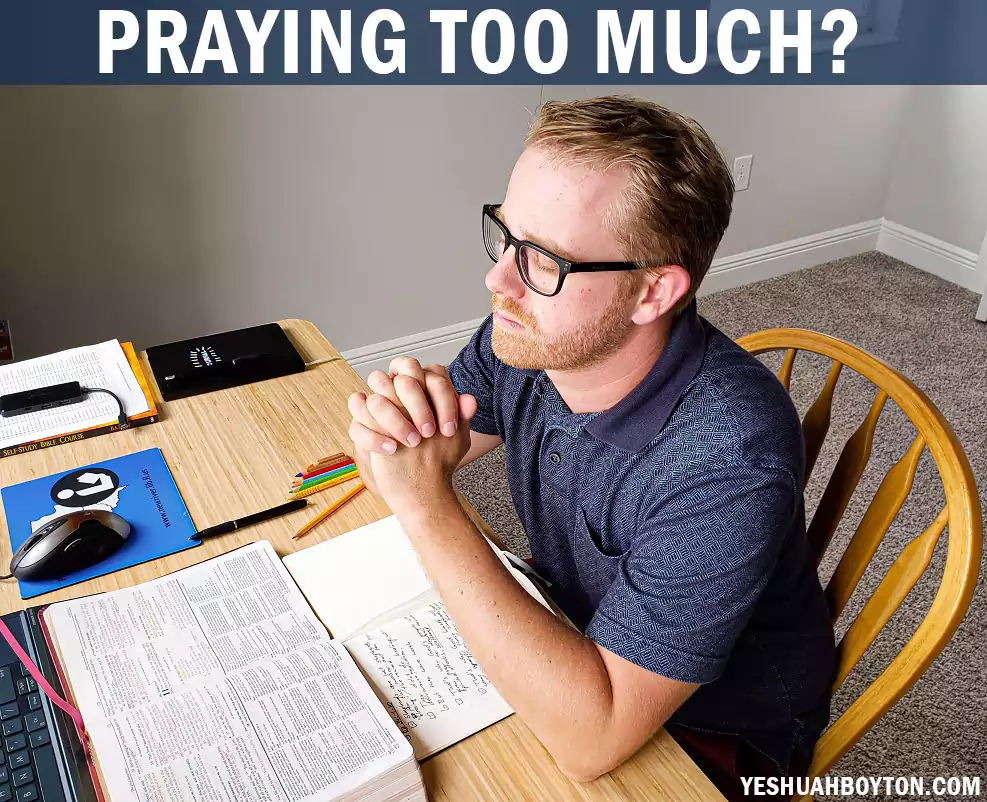 You look for an answer to the question if there is such a thing as too much prayer. You might be unsure because there're people saying you have to pray a certain amount of time. Or you're just the bubbly type who feels like you talk God an ear off.
In any case, here's my summary answer.
As a whole, there is not such a thing as too much prayer. The Bible instructs us in 1 Thessalonians 5:17 to "pray without ceasing." It is to have a prayerful attitude throughout your day. Though, God will not hear because of our vain repetition (Matthew 6:7). He answers an earnest, persistent plea.
Let me unpack this through some more clarifying questions.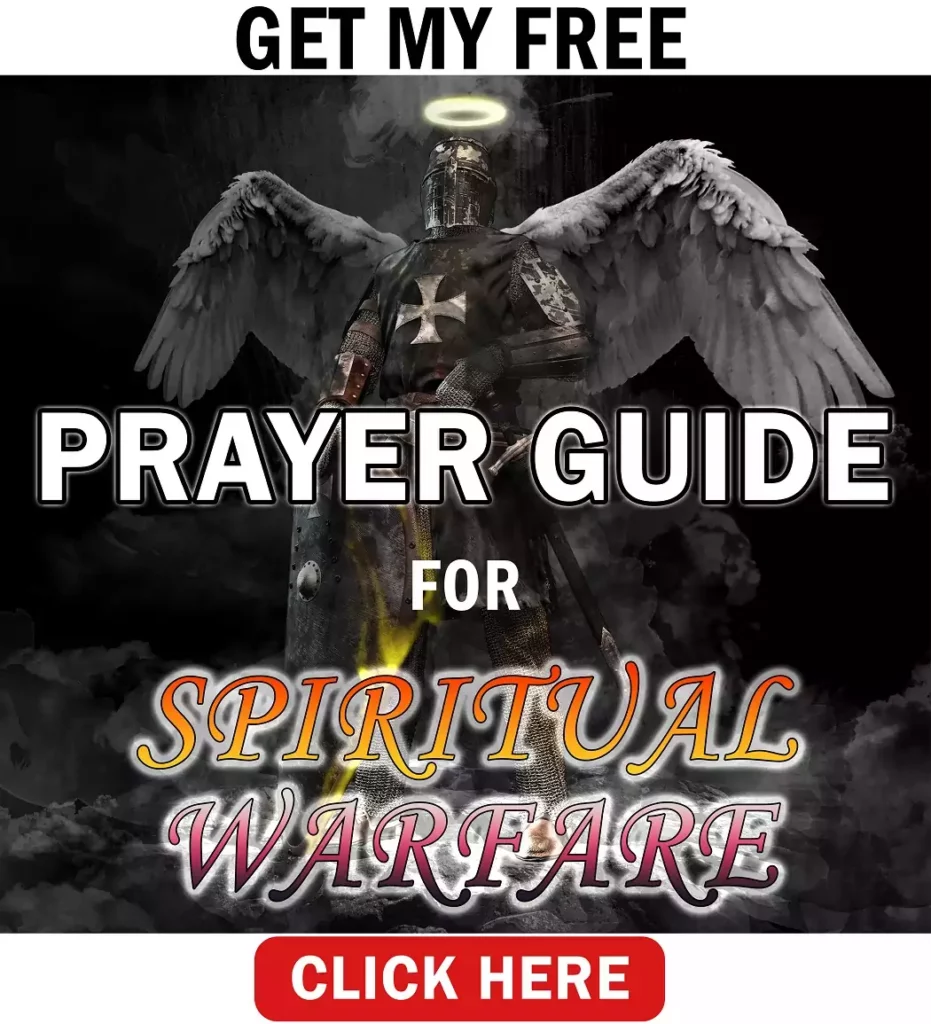 Can you pray too long? Does the length of prayer matter?
As a general rule, you cannot pray too long. The length of prayer does not matter. However, your motivation does matter – why you pray and why you take the amount of time you take. Some issues require a persistent dialogue with God. Other situations might only need a short prayerful petition.
Let me ask you this. Why are you asking this question in the first place?
Is it because you try to find the shortest prayer possible? How much or how few can you pray to still get by?
Or are you asking because you think you're not praying enough?
Either way. Prayer is about a relationship with God.
So, one more question.
Can you spend too much time with loved ones, friends, family, spouse, or kids?
The answer is, it depends. Right?
Your motive matters. Your attitude matters. Your circumstances matter.
Let's say your spouse lies in agony on the couch. But you're too spiritual to help and rather want to have your 3 hours of "quiet time" with Jesus.
This would be "spending too much time with God."
I wonder if God would even hear your prayers in such a case.
I remember a story my grandmother told me once. She and her husband were carrying heavy furniture up and down the stairs. When my dad passed by, they stopped him. "Hey, can give us a hand?!"
His response. "No. I first have to have my quiet time."
There is a difference between sacrifice and religiosity.
Sacrifice is giving up time, energy, and resources, or sacrificing something you'd rather do to be alone with God.
Religiosity says it sacrifices time, but only so it can later say, "Look at how long I prayed."
The motive: wanting to be regarded for effort.
But God wants to regard you for your love.
To pray for a long period of time is okay. As long as you do it to spend time with God and don't neglect the other responsibilities God gave you.
Long-winded prayers are okay. As long as they come from the heart and not to impress God or man.
If you want to learn more about prayer you should check out these articles: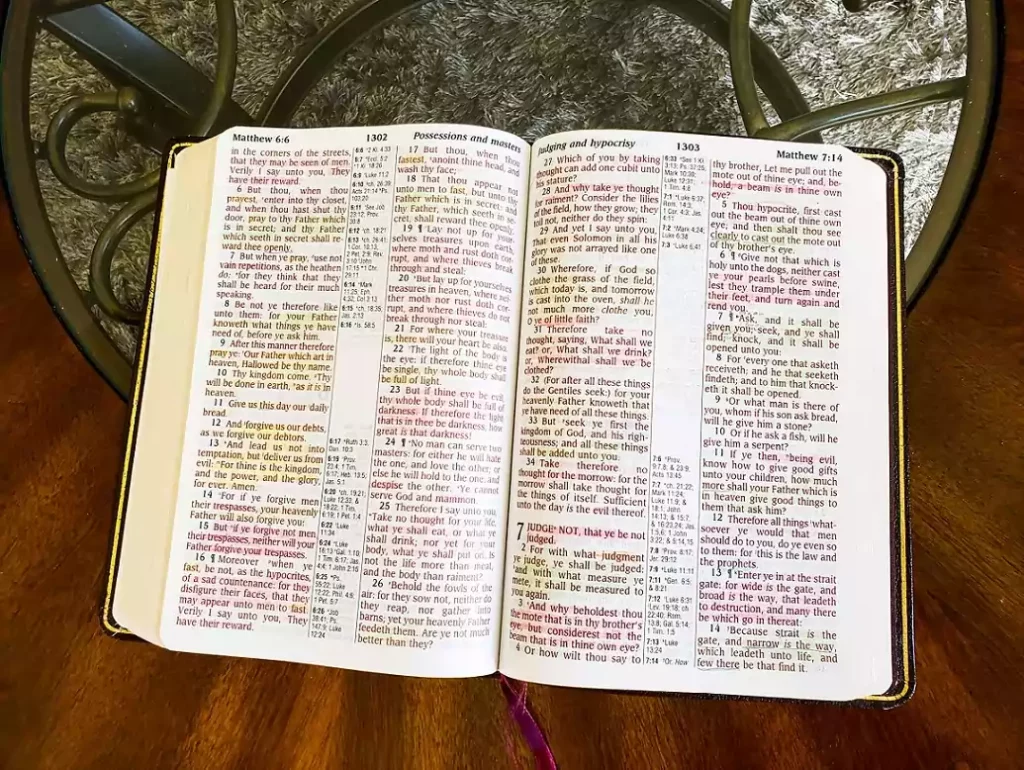 What does the Bible say about continuous prayer?
The Bible tells us to continue "steadfastly in prayer," to "pray without ceasing," and to always pray "with all prayer and supplication in the Spirit." Continuous prayer isn't meant to be spent in the prayer closet. It means to have a prayerful attitude and be sensitive to the Holy Spirit's prompts throughout the day.
In a nutshell, the Bible tells us that there can't be enough prayer.
rejoicing in hope, patient in tribulation, continuing steadfastly in prayer;

Romans 12:12 NKJV
Rejoice always, pray without ceasing, in everything give thanks; for this is the will of God in Christ Jesus for you. Do not quench the Spirit.

1 Thessalonians 5:16-19 NKJV
Be anxious for nothing, but in everything by prayer and supplication, with thanksgiving, let your requests be made known to God;

Philippians 4:6 NKJV
praying always with all prayer and supplication in the Spirit, being watchful to this end with all perseverance and supplication for all the saints

Ephesians 6:18 NKJV
This doesn't mean you have to always pray in your closet.
It rather describes a posture of sensitivity. It expresses a prayerful frame of mind.
It is listening to what the Holy Spirit says and to be led by Him.
What if I need an answer but don't seem to get it?
Just do something.
I say this as an introvert. I'm a guy that had to self-teach himself to make decisions – quick(er). I am by no means a choleric go-getter.
But God let me hang around plenty of overachievers. And I learned that sometimes you just have to get the car moving while you're praying.
I know some people do too much "doing."
But if God doesn't give you an answer right away, you gotta start knocking on doors. Some will open. Some will close. And others will stay shut. Maybe only one door will open.
See, God is gentle, kind, loving, sensitive, and all the other introvert attributes. But… if you look into the Bible, He's very much a doer.
So, pray, and seek God. Fast. Sacrifice. Pour your heart out. And then step out in faith and look for the leading of the Holy Spirit.
In some cases, there is no answer because you ask selfishly.
Ask yourself: Will your request honor God? Will it build His kingdom?
Maybe some aspects to consider while you pray.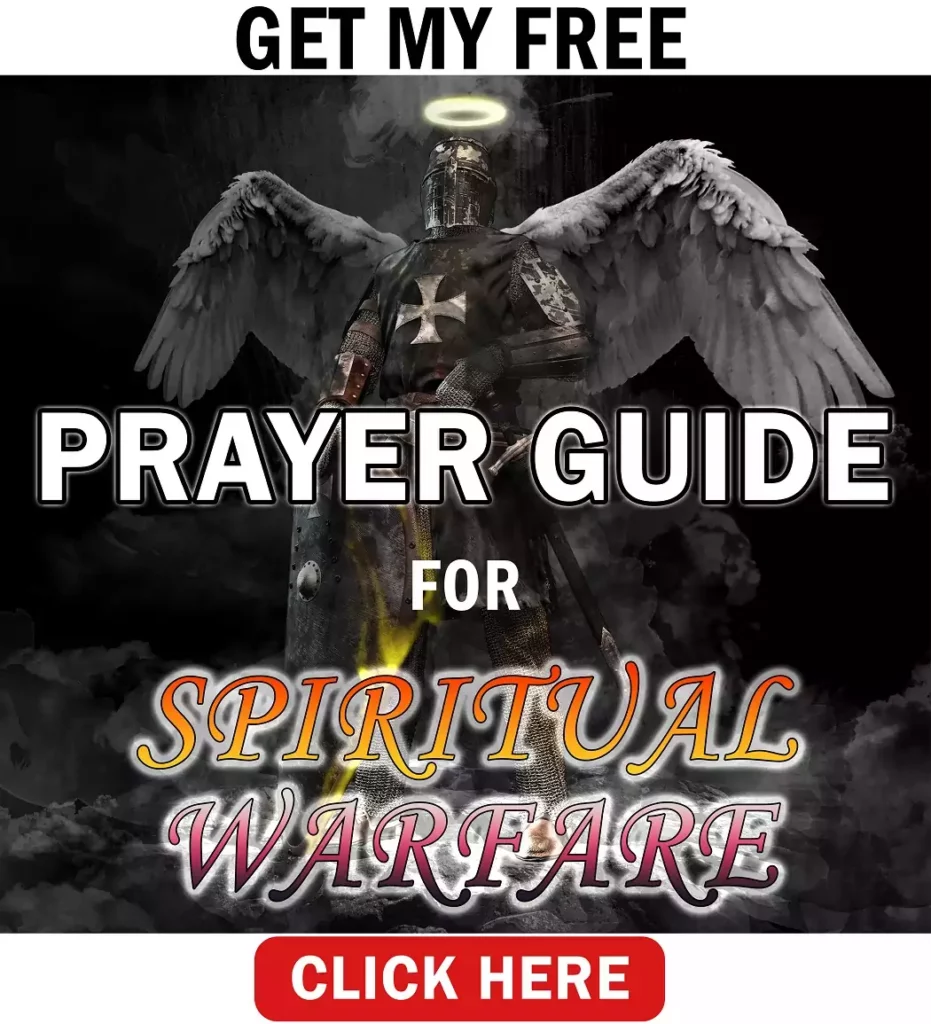 What should prayer be anyway?
Prayer is you pouring out your heart to God.
Interceding for others.
Worshiping and praising Him.
But also listening to God. Doing some serious spiritual warfare. Which actually is to let Jesus touch you in the dicey areas of your life.
That brings healing to your inner and outer wounds. It will deliver you from bondage.
Prayer is not just you talking to God. It is a dialogue.
You talk to God. God answers you back. God tells you something. You respond to it.
Just like a normal conversation between good friends or spouses. At least, that's how it should be.
Remember Moses' example in Exodus 33:11 NKJV:
So the LORD spoke to Moses face to face, as a man speaks to his friend. And he would return to the camp, but his servant Joshua the son of Nun, a young man, did not depart from the tabernacle.
At this point you might be asking:
How long should your prayers be?
As a general rule, prayers should be as long as they need to be. If you're establishing a prayer habit that sticks, start with 5-15 minutes. Then add one minute every day until you get to your desired "prayer length" that is feasible for your lifestyle and circumstances.
God doesn't stop the time you actually spent with Him. All He wants is quality time with you.
Give Jesus your all. No matter how long. It might be 5-10 minutes on a commute or 45 minutes in your prayer closet. What matters is you and Holy Spirit have quality time.
If you don't know what to pray about, here are some prayer prompts you could use to get you started. (Disclaimer: These lists are not exhaustive. They ought to inspire you.)
Pray for your
family member(s)
friend(s)
spouse
co-worker(s)
yourself (I guess everyone will start with that one)
a stranger or acquaintance you met
Choose one or two or all of them from the list above. Then pick whatever applies from the list below.
Pray for:
salvation
healing
deliverance
to meet a person of peace (Luke 10:1-11)
to bring fruit for Jesus (sowing, watering, reaping – John 15:1-8)
infilling of the Holy Spirit
provision
protection
guidance
God's will to manifest
conviction
forgiveness
humility
Remember to listen to God. It's not all about you or you talking. Give Holy Spirit a chance to answer you.
Is it okay to repeat prayer?
The Bible teaches in Matthew 6:7 that we ought not to use vain repetition in our prayer. God will not hear because of a certain amount of litany. However, the Bible does instruct us in Luke 18:1-8 to be persistent in prayer like the widow.
If there is a matter that needs persistent prayer (as in spiritual warfare), like the persistent widow in Luke 18:1-8 – then yes! Go for it.
As Mike Bickle says "Beloved, our private times of prayer and our public prayer meetings may not move us, but they move angels, and more importantly, they move the heart of God. Never measure your prayers by what you feel; when we pray in agreement with God's will, our "weak prayers" move the heart of God even if they do not move us."
But if you focus on what God told you to leave alone, it is not okay to remain in His ears about it. In that case, you can pray too much for the same thing.
Again, it is not about ensnaring God or people with our "spiritual" prayers. It is about making your request known to God. Period.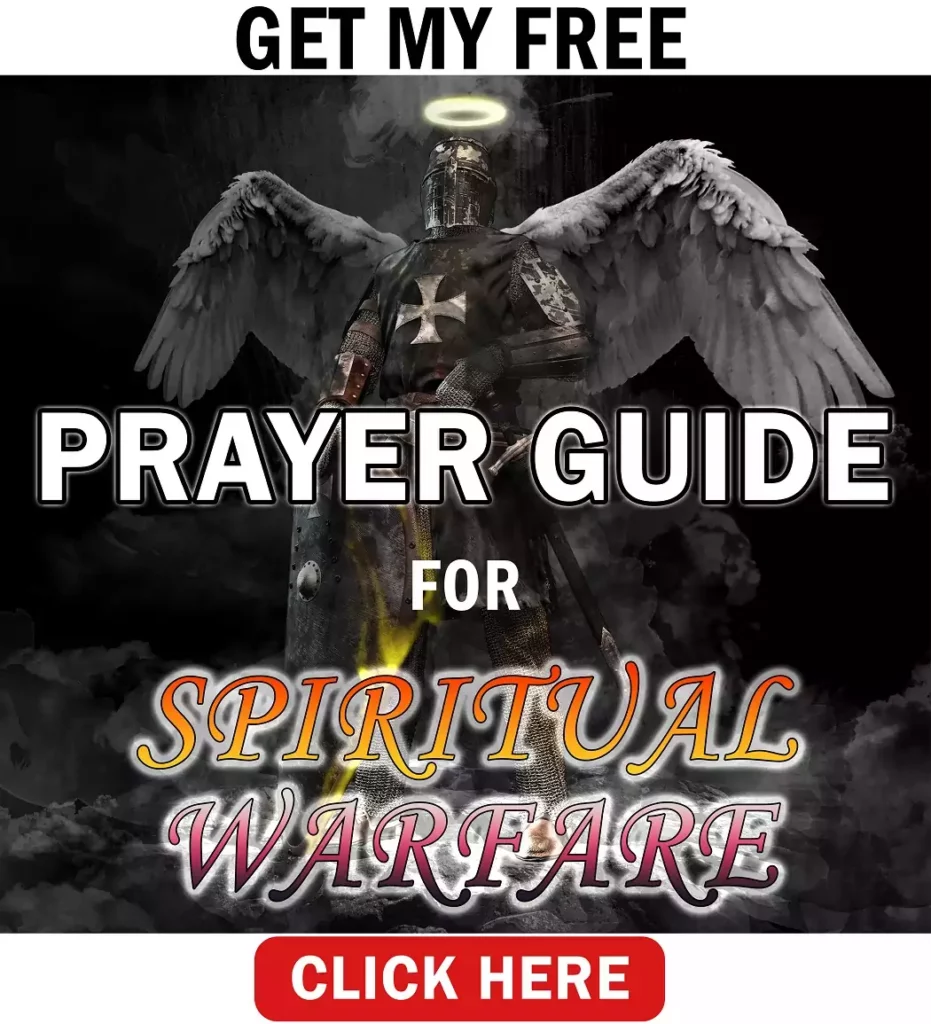 To learn more about prayer you should check out these articles:
Related Posts:
You look for an answer to the question if there is such a thing as too much prayer. You might be unsure because there're people saying you have to pray

---

You feel like God is moving in your life to pray for people. You want to pray just like Jesus did in the Bible and see real miracles, but you

---

When we ask, "did Jesus worship God?", we actually mean, "did Jesus really worship God while being God himself? Did He, therefore, worship himself?" I want to answer these questions

---