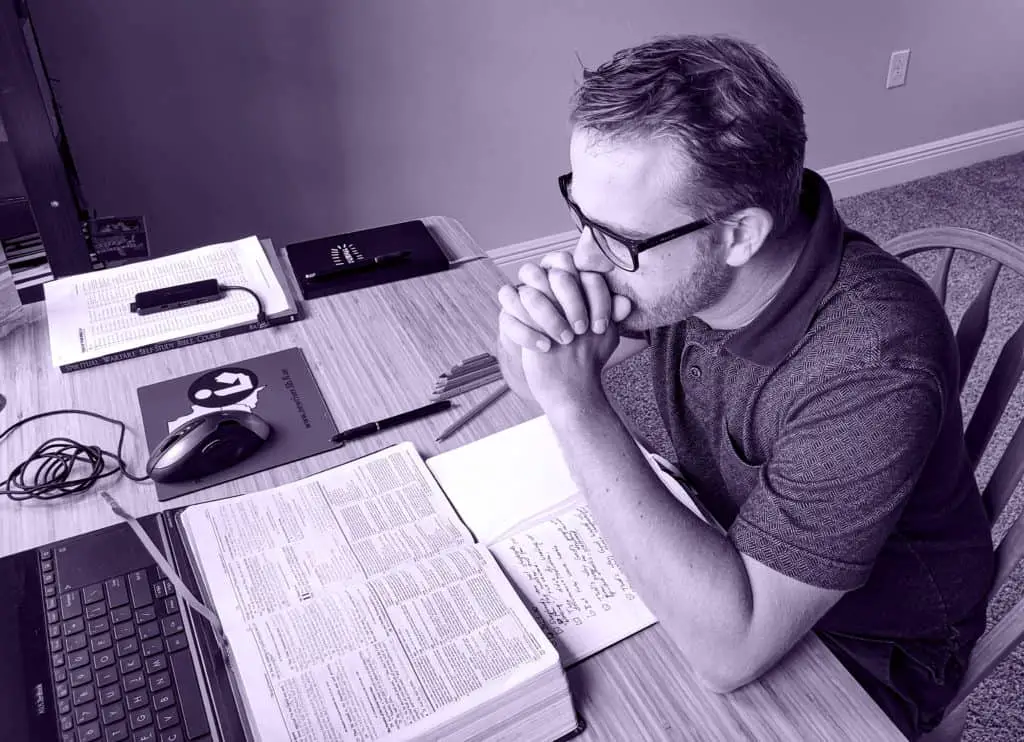 In this step-by-step helpful guide, I want to show you how you can do spiritual warfare for your child effectively. I have prayed this way countless times and seen great results.
Your child might be attacked in real spiritual warfare. You see trouble, torment, anxiety, maybe even disease trying to destroy the call on your child's life and you are seeking advice on how to counter these evil storms.
You can include the following steps to push back the enemy even more and manifest the victory of Christ in your child's life.
1. Repent of your sin and stand in the gap.
Before going into spiritual warfare for your child, it is important that you and your family are completely covered by the blood of Jesus.
When all your sin and your family's sin are under the blood, there is nothing that the enemy could "legally" accuse you of. Forgiveness and true repentance is the first step to freedom. Should you be praying for your child in a one-on-one session you should make sure that he/she wants to change and be free. God is not delivering us from our friends.
Repent of all your sin, committed knowingly or unknowingly, and stand in the gap for your family. Should the concept of standing in the gap be new to you, you can learn more about it in this article.
2. Forgive every person in your life, every offense.
Another step to cover the basics of getting right before God and men is to forgive every person for every offense they committed against you or you have held on against them. Jesus tells us clearly that God, the Father, does not forgive us unless we also forgive others (Mark 11:25-26).
Again, should you pray directly with your child, make sure he/she is willing to do this step. The topic of forgiving others can be iffy and should be a conscious decision just like repenting to fully let it go.
In Jesus' name forgive and release every person that wronged or hurt you just like Jesus forgave you. Forgive them for making you feel a certain way, and/or by (not) doing a certain thing, and/or (not) saying a certain thing.
3. Put on the full armor of God.
Ephesians 6 gives us an offensive weapon against the spiritual and demonic attacks of the devil: The full armor of God.
I can testify that this is a sure thing. I had my very first encounter with the power of God when praying on the helmet of salvation in a healing and deliverance service as a teenager. It was really powerful. Watch my testimony video on YouTube to learn what it was like for me.
When I "put on" the armor, I would usually pray it on in the name of Jesus while also making motions. It's less about a magic movement to produce something but more of an act of faith.
4. Break your own generational curses.
One key to your child's freedom lies in your victory over your own areas of struggle. Maybe what your child is dealing with is something you and/or your spouse are or had to deal with in your own lives already.
It's very likely that you're dealing with generational curses that need to be broken. This is not about shaming anyone in your family but attacking the enemy's stronghold from different angles.
Once the curses are broken in your life you will have even more authority praying in that area for your child. Make sure that you not only "break" the curse but actively cast out the curses holder. More about how to cast out demons you can learn in this article on how to deal with the spirit of fear.
5. Pray for deliverance for your child.
This you can do either in a one-on-one prayer session or in private intercession. Stand in your authority you have in Christ to bind, rebuke, and cast out every demonic force working in your child's life. Similar to how you already broke and cast out curses in your own life, you can now do the same for your child (Matthew 16:19).
Remember, you are dealing with a demonic spirit. You are allowed, even commanded to address it directly in order to cast it out. In the name of Jesus, you can bind it, rebuke it, reverse curses, release God's appointed judgment for it, reverse torment and pain back on it, and obviously cast it out. Sometimes demons put up a little bit of a fight. Don't be afraid, just pray and release the things I just mentioned to weaken its defenses.
Ultimately, Jesus has the victory and nothing is stronger than Him and His finished work on the cross – always remember that! I laid out a detailed and powerful prayer you can use to pray for your child's deliverance. This is the way I usually pray and have seen great results.
6. Invite the Holy Spirit to fill delivered areas.
Jesus teaches us that demons will try to come back into their old now cleaned home (Matthew 12:43-45). The key in this passage though is that it was empty. But don't worry. We can invite the Holy Spirit to fill every delivered area of our life and make it His home.
This is one of the purposes of deliverance after all, right? To have more of God and less of us (John 3:30).
So, just ask your heavenly Father, in Jesus' name, to fill every swept and cleaned area with His precious Spirit (Luke 11:13).
7. Dedicate every delivered area back to Jesus.
Deliverance is taking what once was inhabited by a demonic spirit and handing it back over to Jesus. But this, too, needs to be a conscious decision. After receiving deliverance and inviting the Holy Spirit in to fill every delivered area, dedicate the same areas back to Jesus.
What once was dedicated to rage, pornography, jealousy, destruction, or any other sin, you can now dedicate and hand over this area to the ownership of Jesus Christ. You are making Him Lord over these areas once again.
8. Release opposite blessings of what you renounced.
When we do deliverance of a negative "thing" we do so because we are longing for the opposite. Once the curse is broken there is freedom for the blessing to come back into our lives. Now, declare and release God's word and promises.
For example, if I do deliverance in the area of anger, I would then later release love or patience or joy, depending on what the anger was associated with.
In the name of Jesus, I would also ask our heavenly Father to stir up new gifts to build His kingdom (1 Corinthians 12&14). In addition, I would also ask Him to release His strength and the power of His might (Ephesians 6:10). You can also release the authority Jesus gives His disciples in Luke 10:19: the authority over every power of the enemy to trample on spiritual scorpions and serpents and that nothing would harm you.
Sometimes I also ask for the spirit and the power of Elijah and the anointing to preach the gospel to the poor, preach healing and deliverance, release healing, and set the captives free (Luke 4:18).
Another thing that would be very affirming in so many ways would be praying for whatever gifts or callings you see on your child. Declare and bless them in the name of Jesus for the building of God's kingdom.
Related Posts:
In this article, you'll get a quick answer to how many miracles Elisha did but also a broad overview of all his miracles in chronological order, including their scripture reference

---

You're asking, How many miracles did Elijah perform in his lifetime? Let me give you a quick answer. In total, there are 16 miraculous events in Elijah's life recorded in

---

Did you know the Old Testament records about 16 miracles of Elijah? People differ on the exact amount. Because it gets iffy with Elijah's prophecies. Some people count them as

---